Being the nearest cafe to the Eiffel Tower is not its only advantage. "Le Relais de la Tour" is a small Parisian Brasserie with a lot of charm. A Paris café in the pure respect of tradition with servers dressed with apron and vest with the sense of contact and hospitality. It is run by the same family for nearly 50 years. Among the numerous tourists who come, many choose Le Relais to have a rest, take a sunbath on the large terrace and enjoy the ambiance and of course the cuisine of the place.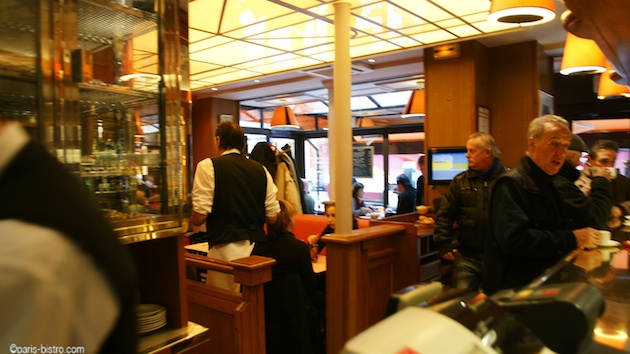 Alan and Valerie know how to receive the customer. If you are standing at the counter, and if you're in a hurry, you can order one of the specialties of parisians Cafés as the "croque-monsieur" or one hot-dog. Valerie has its own recipe that she keeps secret.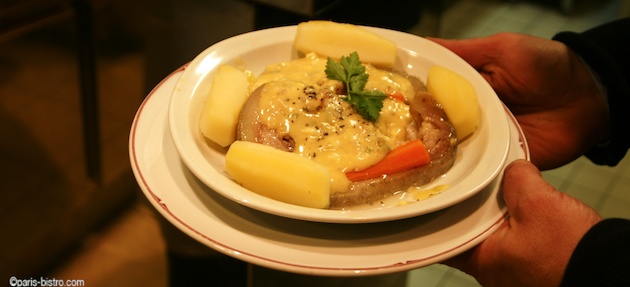 But most of the time, people push the door the Relais de la Tour for its cooking. To begin, obviously you can order a plate of charcuterie Auvergne with its pate, ham and sausages slices from the Cantal.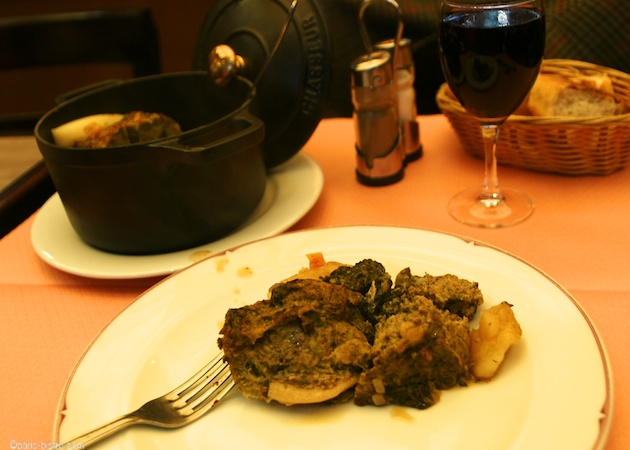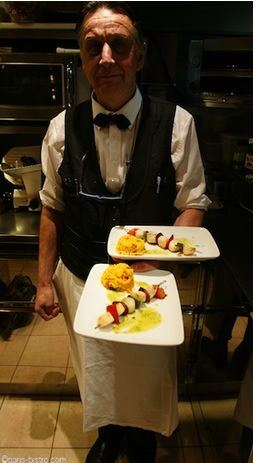 Here, everything is homemade by Chef Gilles, a native from Southwest. After if you are hungry try a sirloin of beef aubrac but you can also discover some others genuine dishes. Gilles prepares some of the dishes the most traditional of the bistro cooking. Thus, for the calf's head (below), clients come from far to savour it.
On Thursday, there are also Auvergne specialties such as the aligot, a rich puree made with Tomme cheese, butter and mashed potatoes. At Le Relais it is served with sausage. The chef prepares also the stuffed cabbage served in a small pot warm. In winter it is a treat.
But like any good Chef, Gilles admits his preference for fish and sea products. Thus, each day, the Relais de la Tour offers a fish different. For example, he can prepare some skewers Saint-Jacques in Spanish way accompanied by slices of chorizo ​​and saffron rice. A delight.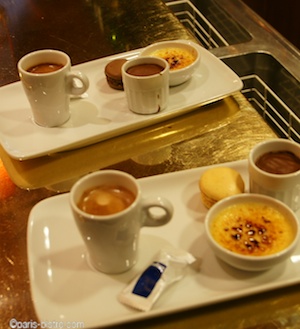 Especially, it does not forget the sweet dishes. Thus the Chef makes also very good pastries. Tatin tart, crème brulée, rice pudding for example. Hard to resist to all those pastries in exhibition in the center of the Café. But the most virtuous or the wisest can also choose le café gourmand. A espresso with different samples of desserts.
How to find le Relais de la Tour ?
Le Relais de la Tour
27, avenue de la Bourdonnais
75007 Paris
Phone (33) 1 47 095 44 93
Metro line 8 : Ecole Militaire