Many actors have stopped by Lipp's as well as writers like the pilot Saint-Exupéry.  He, along with fellow author, André Malraux, celebrated his claiming of the Goncourt prize at Lipp in 1933. Politicians, especially foreign ministers, also became regulars. From the right wing to the left, they avoided each other's gaze even though the sauerkraut they were eating came from the same pot. Marcellin Cazes made sure his customers were heartily well-fed. The kitchen was always a mad scene and you had to take turns at the beer pump.
In 1934 one of Lipp's customers suggested to Cazes to create a book prize, which still exists today, Le prix Cazes. It is a literary prize which keeps a little reputation even though the conditions are not followed  for example the authors must be young, which is sometimes not the case.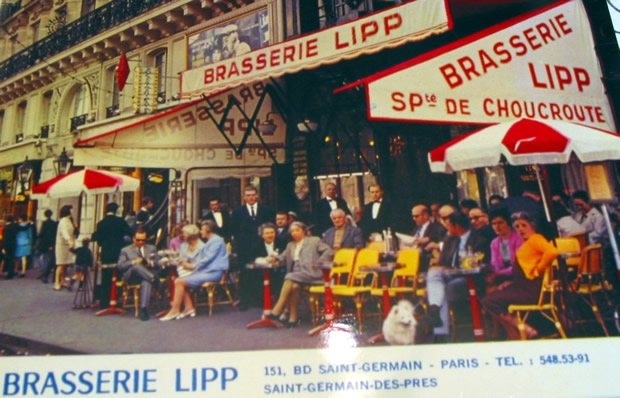 During the second world war and occupation, Lipp could have been visited by SS officers, members of the French gestapo, or rich art dealers that plundered Jewish property. But Cazes would have nothing to do with them, and preferred to serve beer to writers who refused to collaborate. On the day of the liberation of Paris, Cazes bought champagne for his customers. Some days later, a war correspondant from the US army stopped in at the brasserie. It was Ernest Hemingway, who had his glass of cognac filled by a very happy Cazes.
In the 1950s, his son, Roger Cazes, took over Lipp's. It became a great parliamentary meeting place. The parties of the time—the MRP, radicals, and socialists—all shared the same space. Sometimes to bring back calm and order into the room, the boss would ring a bell.
The bell was silenced for many years but was brought back out the evening of the May 10, 1981 with the election of François Mitterrand. That evening, the brasserie was transformed into a madhouse. As each well-known political face entered the place, one side applauded while the other side booed, according to the new arrival's political affiliation.