His brother, a retailer at Montmartre, put him up. Like many of his counterparts arrived from Auvergne and Aveyron. He carried coal, then became a bath-boy carrying up the stairs a tub as well as buckets of boiling water. The trick was to fill it without putting a drop on the floor. This is how a bath-boy could ensure himself a tip.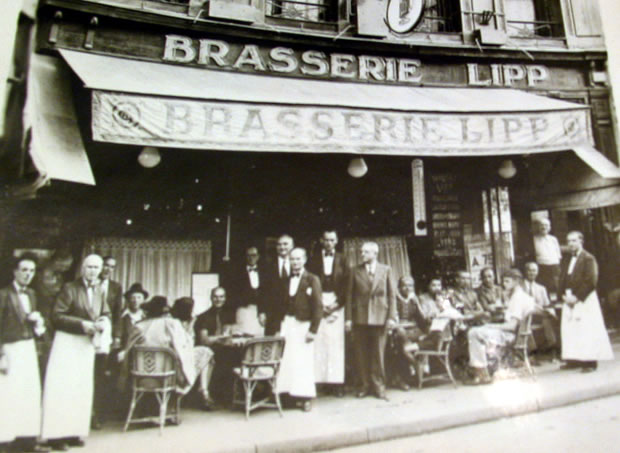 Cazes' first foray into the café world was as a morning assistant in a café on the boulevard Poissonière. Three years later, he became a waiter at l'Electricité, near Faubourg-Montmartre. He spent 16 hours a day carrying trays and bottles, and little by little was able to save enough tip money to start his first business in the Cafés of Paris.
He bought his first business which he ran with his wife on the boulevard Voltaire near the Bastille. Then he set up in the Halle district. That's where he survived the war in 1914.
Twice wounded, Marcellin was determined to stay in Paris. In 1920, at the age of 32, Marcellin dreamed of Paris as it was before the war. He took out a large loan and crossed the Seine to purchase a beautiful café on the boulevard Saint-Germain des Prés. A place that had only ten tables and false walls. This was Lipp's café.
At Lipp's, his wife took care of the cooking. The house was known for its sauerkraut and other Alsacian dishes, so there was no point in changing a formula that works. Marcelllin's job was to create an atmosphere. He meticulously selected the staff as well as the customers.
The café was in a prime location: the nearby theatre group of the Vieux-Colombier came to Lipp's every evening with the famous French actor Louis Jouvet. In 1925, Marcellin expanded the place to suit its increasing clientele.
Continue