From Waterloo to the modern day, the Grand Boulevards have attracted in their famous cafés, the whole of Paris and the crowned heads of old Europe. From the Café de la Paix at Tortoni, this was the golden age of cafés.
With the nineteenth century, the centre of Paris in fact moved towards the West side, that is to say the boulevards of Capucines, Italiens and the Madeleine…. Theatres, luxury shops, restaurants and prestigious cafés followed. Here, you could met all the fashionable people.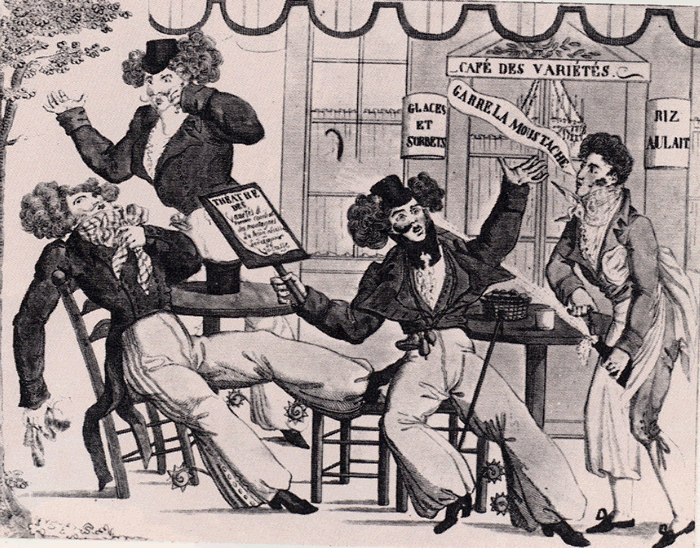 All throughout the nineteenth century, cafés of the grand boulevards also gave the tone and set the fashion for a long time. The terraces of the cafés of the grand boulevards were formidable posts for observation. You can see the society people strutting with their best gear, parasols in their hands, or applauding like in 1814 when the coalition troups : Cosacks, Austians, prussians and English concluded the Napoleon adventure.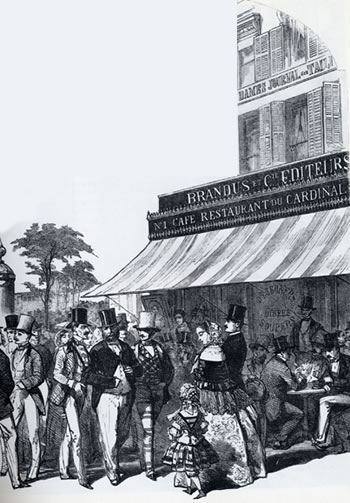 The standing of elite customers in the cafés of the grand boulevards was essential for the genius café owners of of the day. During two thirds of the nineteenth century the Italian Tortini's name was known all throughout Paris; especially its cafés. Nearly two centuries after his compatriot Procope, Tortoni, an ice cream maker from Napoli, knew how to attract the most fashionable Parisiens to his café, with its ice cream, mirrors, candelabras and terrace. Tortoni's café was located ner the Italian theatre, and he turned many patrons away every evening after the show.