You won't forget « Au petit Chavignol ».  As a matter of fact, the « Petit Chavignol » proves to be one of the best places in Paris' 17th arrondissement . It stands as one of those wine bistros without which Paris would not be Paris. A tiny proof that the town still resists the invaders – no Romans anymore, but fast-food restaurants, and large chain stores…This bistro is a place where the mythical social melting-pot is being cooked together with some of the best products of France.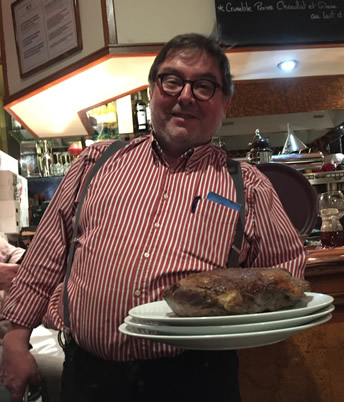 The french capital, the french culture, remain to true to themselves thanks to people such as Bernard Roque-Bouges who respect tradition whilst looking towards the future.  In matters of cooking, they know how to marry the best of the traditional deep-down country material with brand new flavours.
This bistro actually looks more like a « Bouchon lyonnais » (« Bouchon », which really means cork, being the Lyonais local word for « bistro »), complete with vine stocks all around – and a wide list of local wines where south-western France is barely represented.  Bernard and Laurence Roque-Bouges are fond of beaujolais wines. One can especially appreciate the ambiance on the night of the Beaujolais Nouveau which is at one past midnight the third Thursday of each November, when from villages and towns over a million cases of the Beaujolais nouveau start their voyage through sleepy France to the capital and to all countries.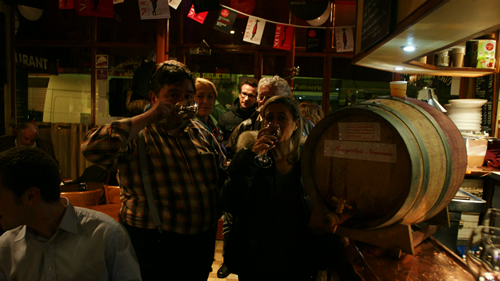 For the meals the french tradition of bistro is well respected by serving duck confit or fantastic meat courses that included the famed « aubrac beef » served with potatoes.  You will also find all kinds of sausages, dry, boiled, whatever, which are heart and soul of Aveyron cooking. The choice of cheeses ranges from 6 and 18 months old « Fourmes de Laguiole »  and of course the home famous « Roquefort » cheese. The very name of the house shouldn't be forgotten so you will have to try some of the  « Crottin de Chavignol»  which is the name for the small oval formed delicious sheep cheese.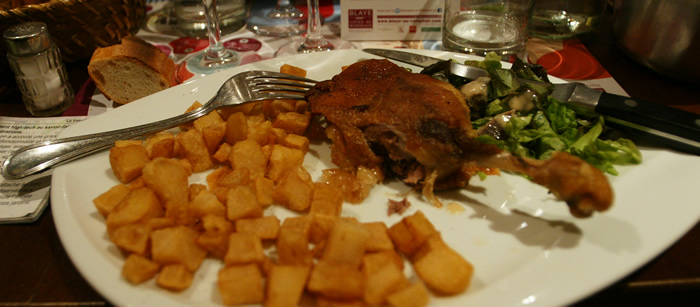 The service will be just as cool and relaxed – and extremely able– while both Mrs and Mr Roque-Bouges will be at hand to help you make your meal a success !
Au Petit Chavignol
78, rue de Tocqueville
75017 Paris
Phone :
(33) 1 42 27 95 97
Open every day except on sundays
Lunch : 12 AM- 3PM
Diner : 7.30PM – 11.30PM