With its green awning, l'Arcade Haussmann is a fine « brasserie » with a prominent position on Boulevard Haussmann. Directly behind the Saint-Lazare railway station and close to the alluring department stores. Whether seated inside or outside, luminous and bright, this café designed around the idea of animals from Africa sends out good vibrations.
Since the summer of 2014, the Brasserie is run by a couple, Jean-Philippe and Laurence Bruel (below on the left. These natives of Auvergne are not novices in the Parisians cafés. Associated with Francis, a Norman (right), with whom they have a long working history, all three are devoted in their delivery of traditionnal and terroir dishes and welcome each client with the same warmth.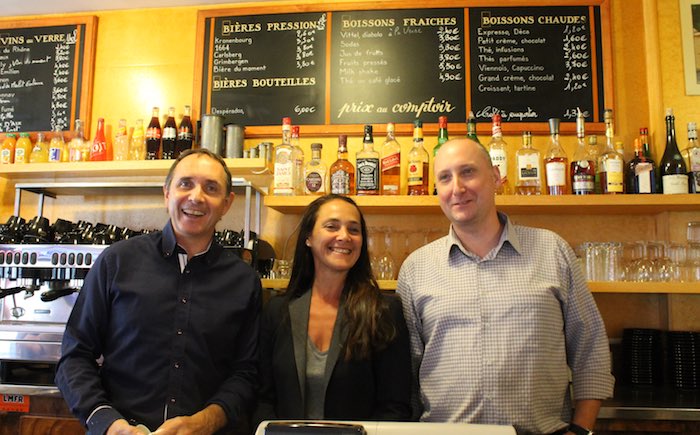 They recruited Yannick,  the Chef who is very keen to propose innovative and delicious daily specials that fit with seasons. The bistro's burger seduces young and old clients, frenchmen or and overseas visitors.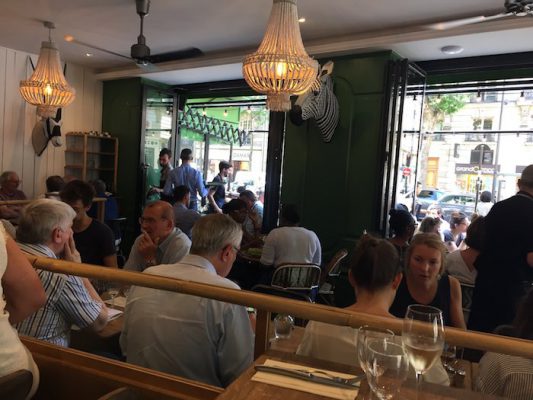 Another example is a succulent cheek confit and caramelized pork . Ditto for the duo of lamb on his bed of white beans. But you can be extremely lucky and arrive on the very day when duck with Espelette pimento (a famous basque speciality) is being served. But of course, the Chef has other traditionnal selections such as the burgundy snails with garlic butter.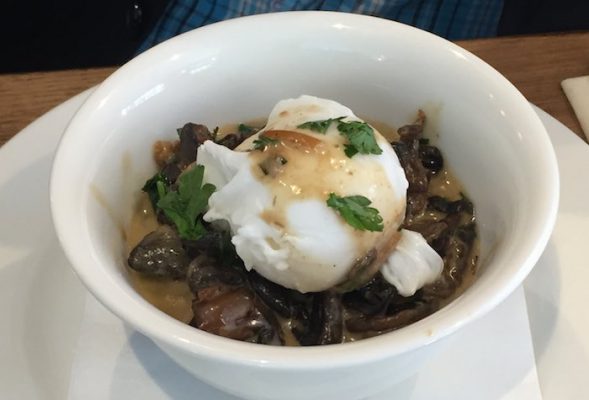 But, if ones prefers a more italian taste then there is the seriously refreshing pasta salad with pesto..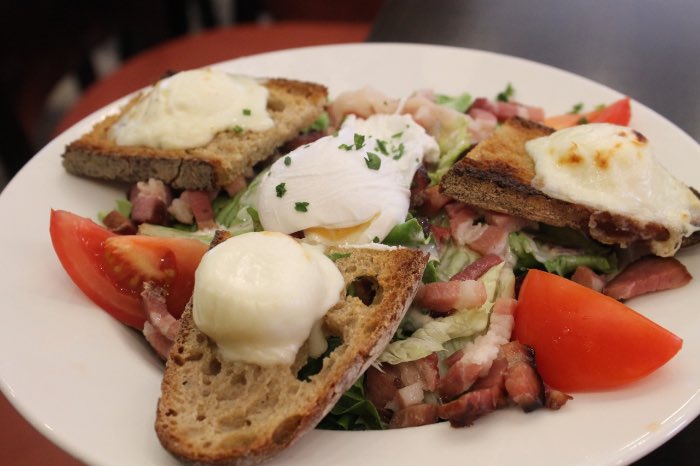 Jean-Philippe and Francis have made their own selection of interesting wines of terroirs. You'll have to taste, for example the Picpoul Mas de la Garenne, a famous languedocian white perfect to accompany the oysters of Christophe Guezel, best friend of the bosses, who comes at the Arcade from Brittany every week in winter.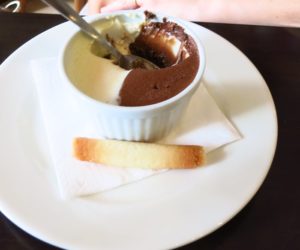 And for dessert, among the choices, his pancake will seduce as much as the sweetness of a black and white chocolate mousse duo that will remind music lovers of the famous hit by Paul McCartney and Stevie Wonder. «Ebony and Ivory live together in perfect harmony ..»
L'Arcade Haussmann
82 Boulevard Haussmann
75008 Paris
Phone. 33 1 43 87 48 42
Open from 6.30 AM to 11 PM during week
Week-end from 10 AM to 10 PM
Metro Saint-Lazare, line 3, line 14